These invitation templates are sized A5 and come with two per page for easy printing on an A4 sheet. They can be printed in black and white to save on printing costs. The text is editable to customise to suit your event or purpose .
Do you want to reach out to your neighbours and let them know you care? In these uncertain times, it's more important than ever to stay socially connected.  Make a start now to build relationships and as social distancing rules relax again, we hope you will be meeting in person before too long!
Invitation 1 is an editable template that outlines a suggested online Happy Hour event, and can be printed at home and delivered to letter boxes in your neighbourhood. This simple tool to connect online will help you start to build the links needed for connections and relationships to grow.  We have a Happy Hour "How to" guide too, that outlines how to run the event and how to set up a zoom acount if you don't know how! Just email us at hello@neighbourhoodconnect.org.au and we will be happy to share!
Invitation 1- for online connecting. For a 'how to' guide to run Happy Hour please email us at hello@neighbourhoodconnect.org.au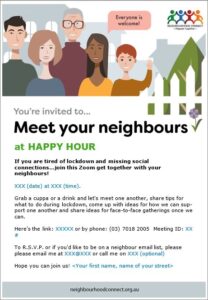 Invitation 2- for face to face connecting
Invitation 3
Invitation 4