The joy of bringing people together
Bullcreek, WA local Monika, says she was keen to build community unity and her neighbourhood connections when she came across Neighbourhood Connect as a tool to support her ideas. With invitations in hand Monika doorknocked the neigbourhood, inviting people to her open house and was delighted with the response. A total of 39 attended the event including her family, 24 neighbours as well as friends and colleagues
Monika says the highlights were: the number of neighbours attending, the joyful atmosphere that was felt by all attending, the expressions of gratitude from the neighbours and their enthusiasm to further develop community on the street. The friendly interaction of neighbours with each other and even the disappointment of those unable to attend this time but wanting to attend an event in the future, gives optimism for lots of future postive neighbourly connections in Bullcreek!
The snowball effect of connection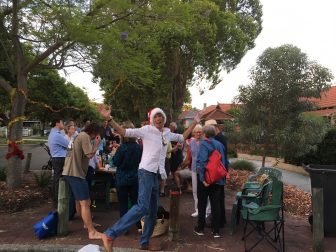 Scott from Nedlands WA, has been bringing people together since 2017 and connections are organically building as a result. Scott says of his motivation…"In a time when people are more connected (online) than ever before more and more people are suffering from loneliness and isolation, getting neighbours together is a way of forming bonds and breaking the isolation.
Since the first Christmas party in 2017 the group has had plenty of follow up parties and events. A number of connections have been made and now thanks to the parties many families in the area have started a kids play-group. There have been many friendships formed from the parties and this will only improve over time. For each party Scott letterbox drops the six streets in the area (around 550 houses) and puts up signs at the main entrances to encourage new people to come. On the flyers he always asks people to invite their friends/family and neighbours. On the night he puts out a table, chairs, esky, lights, music, sign in sheet, name-tags and brings along some chalk and games for the kids. For the Christmas party this year, he is considering a treasure hunt.
Scott's experience shows that once you take the first step, wonderful new connections can unfold!
An unlikely club building community connections
Your community may be your best ally against loneliness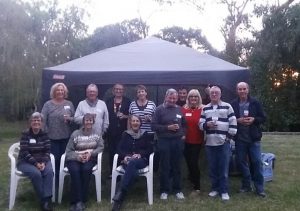 You would be forgiven for thinking the Vintage Car Club was all about shiny old vehicles and passionate tinkerers… but this club is not what you think. The Vintage Car Club is a neighbour group in McCrae, on the Mornington Peninsula in Victoria, named after their local streets, all sharing vintage car names.
You're more likely to see these group members chatting over the fence or sharing a cup of tea than polishing their hubcaps, and that's just the way they like it.
What turned this area into a blossoming community was 60 initial letterbox invites, leading to 20 attendees at that first meeting. In just over a year, these former strangers, along with new additions, have built ties that enrich their lives on a daily basis. It could be simple things like a neighbour willing to keep an eye on your property, collect your mail or feed your pets. It could be the answer to the infamous problem: I have no one to do this with. These residents manage to find company for interests like water aerobics or dog walking. It could be ad hoc help: Does anyone have a juicer? Yes, someone probably does.
But this group can also take credit for grander victories: they rallied to help a neighbour move into a retirement home. They come to the aid of an older resident when she is frightened or needs a hand. Two people who lost spouses have found a strong system of support against their pervasive depression. And more often than not, there is someone to have a laugh with on the other side of your fence. "It's good fun, we've gotten to know each other. We feel part of a community now and most of us felt isolated before," says Jenny McCarthy, the Connector who first opened her door to a more connected neighbourhood (quite literally, too, seeing as the initial invites welcomed her then-unfamiliar neighbours into her home and life). And now? "I've got all these neighbours I could call any time of day or night and they would help," she tells us.
The fact that everyone in the group is still enthusiastic about it, 13 months later, is a testimony to how community can become a steady network that helps you through life. Vintage Car Club has kept the ball rolling by welcoming new faces, organising simple events, and just being there for one another. It has added a layer of interaction, support, and safety to the lives of its members—the kind that can be facilitated only by those who surround you.
---
Bumping into people, and liking it…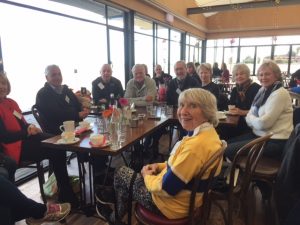 Going on three years now, the St Kilda West Neighbourhood Connect Group has cultivated a community that gives its members a sense of home and belonging, not just a coincidental similarity of addresses. Catch-ups, walks, movies, and just "giving each other a hand" are all part of it, says Clare, who is grateful for the lovely people and new friends she has met as a result of this neighbour group.
Indeed, this Melbourne-based suburban community has been a boon for people in different situations. Sara recalls, "When we were younger, there were easy ways to meet people. Now it's harder. We're new here and were so happy to get the invitation to meet our neighbours. It's great for us."
There are also those anticipating big milestones. According to Barb, one of the earliest members and a connector in the group, living in a closely-knit neighbourhood has given her a system of support outside work and family. The relationships she has built with her neighbours are of added value to her life, as she prepares for her retirement in a few years. Barb also dispels the notion that neighbourly connections need remain superficial, restricted to how-do-you-dos and asking for favours. She insists that her group brought about a new "depth of knowing people, having more personal conversations."
While the eye-averting majority that live among strangers might find it puzzling, for the lucky few in connected communities like Barb, knowing more neighbours is a win-win "It's great bumping into people I know and having a chat."