Given the health crisis in the world right now, and the rapidly changing situation of corona-virus (COVID-19), we can understand that you will be feeling apprehensive about coming together with others right now, including planning and attending neighbourhood gatherings.
---
Ten Simple Ideas to Start Connecting
Ready to think bigger? Scroll down to see our big list of 80 great ideas for building neighbourly connection.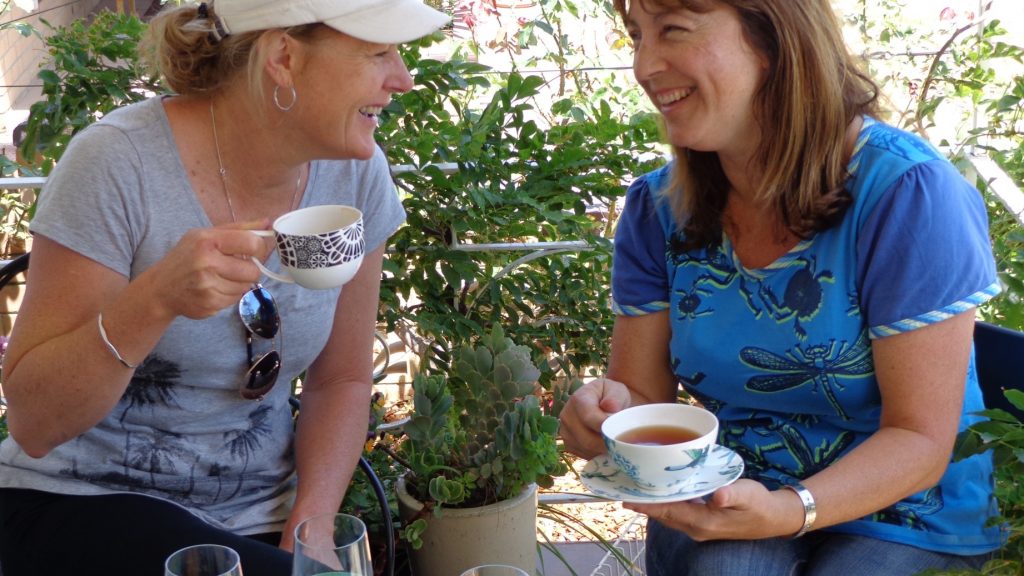 Stop and chat when you see your neighbours or just say hello!
Walk more, relax on a front porch or garden open to the street so that you get to interact more with your neighbours.
Plant a lemon tree for the street.
Share or swap fruit, herbs or veggies if you grow more than you need.
Roving morning tea: get together with your neighbours and plan a roaming morning tea for each month, with a different neighbour hosting each month and everyone brings a plate of food to share.
Or just meet at a cafe!
Start a street walking group – with or without dogs, where children in prams and on bikes are welcome. Set a regular time each week to talk and walk.
Pot-luck dinner: everyone brings a dish to share. This could be in a home, backyard, front yard or as a long table dinner.
Games afternoon– make a regular time for parents and kids to meet at the park to play games together.
Car washing Day: set up an area for the children in the street to wash the neighbours' cars. Kids create a flyer to promote and letterbox drop to invite people along.
Garden Blitz. Find others who enjoy gardening and take in turns working on each other's gardens for short busy bees to get jobs done.
80 great ideas for building neighbourly connections.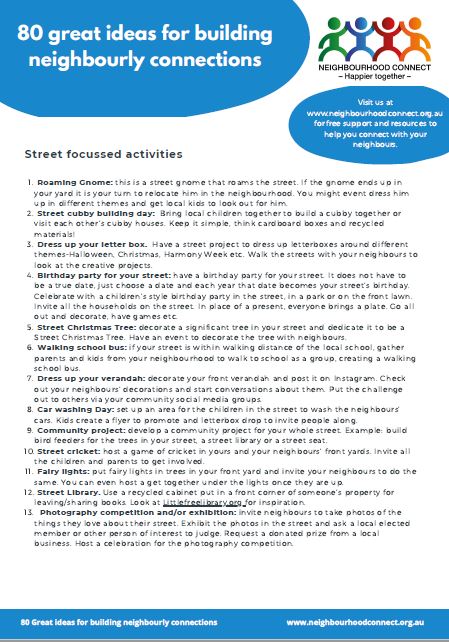 Your neighbourhood is unique! What works in one street might not be suitable where you live so thankfully we have lots of great ideas here. Think about the type of people who live in your community, who you want to attract and what they might like to do. Download our big list of 80 ways to build neighbourly connection and contact us for more guidance on turning your street into a community!
'How to' guides
Need more inspiration? Try these ideas for fun events that bring neighbours together.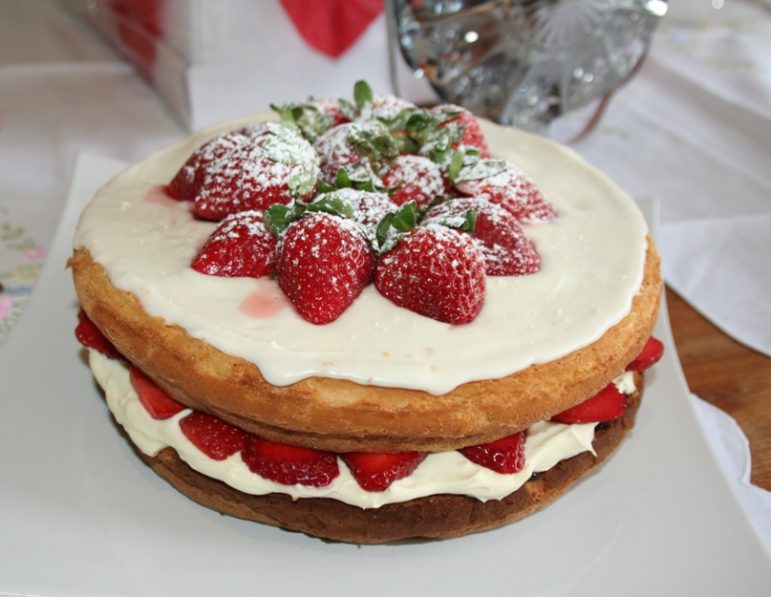 Disclaimer: The ideas and suggestions available on these pages are examples only. Individuals are responsible for taking adequate safety precautions, obtaining relevant permissions and observing any relevant laws or regulations related to their activities. Neighbourhood Connect takes no responsibility for the activities of neighbour groups.