Looking for some creative ways to add some festive cheer in your neighbourhood? Here's five ways to spread joy and build happy connections this festive season.
1. Christmas cooking
Hold a baking day in your kitchen and invite neighbours to join in. Don't forget the older people, kids and both men and women who might be interested. Bake your favourite recipe and share them around or choose neighbours to gift them to. Check out some baking ideas here.
2. Send a handwritten card
While for many, hand written Christmas cards might be a thing of the past, a surprise note in a mailbox can make someone's day. If you know of people living on their own who might especially appreciate it, drop a handwritten card wishing them well or get your creative kids on the job.
3. Dress up your front yard
There is nothing like twinkling fairy lights to cheer up the front of your house and a lovely way to encourage neighbours and families to walk the streets together to admire them. Another idea is to dress up your letterbox in a Christmas theme and get your neighbours to do the same.
4. Christmas wreath making
Christmas wreathes made from your garden cuttings can make a colourful and festive addition to you front door. Gather your garden cuttings, bring your neighbours together and have fun being creative!
5. Christmas movie night
Find a classic Christmas movie and invite the neighbours to come together to watch it. If you have room, set up a screen in the front yard and get everyone to bring Christmas food to share. From The Muppet Christmas Carol to Miracle on 42nd Street, here's a big list of movies to choose from.
---
Ten simple and easy ideas to start connecting.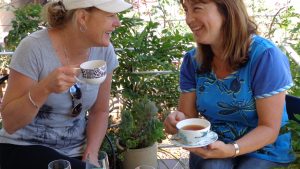 Stop and chat when you see your neighbours or just say hello!
Walk more, relax on a front porch or garden open to the street so that you get to interact more with your neighbours.
Plant a lemon tree for the street.
Share or swap fruit, herbs or veggies if you grow more than you need.
Make a regular time for pot luck dinners or lunches, picnics.
Make a regular time for walking or running with neighbours at a nearby park.
Make a regular time for a barbeque in the park and whoever is free comes along.
Make a regular time for parents and kids to meet at the park.
Make a regular time for socialising over a cuppa, at a local café or at someone's home.
Make a regular time for playing cards or other games.
Download the full list below.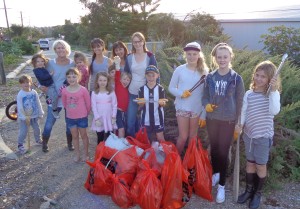 'How to' guides
Need more inspiration? Try these ideas for fun events that bring neighbours together.
Disclaimer: The ideas and suggestions available on these pages are examples only. Individuals are responsible for taking adequate safety precautions, obtaining relevant permissions and observing any relevant laws or regulations related to their activities. Neighbourhood Connect takes no responsibility for the activities of neighbour groups.