Neighbourhood Connect Inc. is a national charity and not-for-profit community organisation, helping people connect with others who live near them. We encourage people to go beyond social media and step out into their neighbourhoods and get to know one another in real life.
 
We are run by a voluntary Board, are supported by a project team, and have a growing group of Neighbourhood Connectors leading neighbourhood groups across Australia. We have no political or religious affiliations. 

Formerly known as The Street by Street Project, we commenced in 2014 with a model developed by the Centre for Civil Society, a social policy and social innovation institute.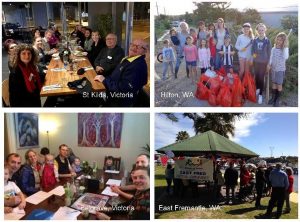 Vision
Our vision is an Australia where everyone everywhere feels a sense of belonging, safety and support in their neighbourhood.
Mission
Connecting neighbours to strengthen the social fabric of Australia's neighbourhoods.
Values
Kindness, Inclusiveness, Sharing and Collaboration.
Everyone benefits from community life – older people can stay in their homes longer if neighbours give them a hand, people with a disability are included, people with a social life suffer less from depression and social isolation and safety is improved when neighbours look out for you and your property.
Research shows that people with strong social connections live longer, have better mental health, improved physical health and are happier. See the research.
What we do
We promote health and wellbeing by facilitating the formation of neighbourhood groups and supporting people to become Community Connectors. We give ideas, examples, tools, encouragement and support, and assist step-by-step at no cost.
We facilitate Let's Get Neighbourly workshops, which provide people with the confidence, skills and tools to hold neighbourhood events and start neighbourhood groups.

Community connection is an important antidote to loneliness, depression and anxiety, which have reached epidemic proportions in Australia. We provide education on the links between: 
depression, anxiety and loneliness and lack of community connection 
community connection and positive health outcomes.