There are many ways to get involved in the Neighbourhood Connect Movement. Kick of a neighbourhood event or start a group, join the network with your established group, volunteer or support us!
Become a Community Connector
Do you…
Want to feel a greater sense of connection in your neighbourhood?
Enjoy meeting people?
Want to use or develop your communication and leadership skills?
We make it easy for you to form a neighbourhood group, assisting you step by step. You will get ideas, examples, tools, encouragement and support at no cost. It all starts with a simple, social gathering.
---
Add my neighbourhood group to the Network
Join the movement of neighbourhood groups across Australia!
If you are part of a local group that meets in person and encourages community connection we'd love you to join the Neighbourhood Connect Network. This includes groups of a local nature with a focus on sustainability, community gardening, walking group or other interests. Join us and you can:
Use the resources on our website, such as activity ideas, templates and stories of inspiring groups.
Join our email list for Connectors (organisers) if you wish to hear about what is happening in other neighbour groups.
Share ideas and learning; give and receive advice.
Share about your group on our Facebook page.
There is no cost to be part of the Network. Neighbourhood Connect has no political or religious affiliations. We simply want community life to be available to everyone. Contact us to join the Network.
---
Volunteer with us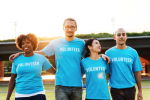 We'd love to hear from you if you'd like to contribute to our work.
Email us to tell us what skills you have to share: hello@neighbourhoodconnect.org.au

"Getting involved in the Neighbourhood Connect project team has been one of the highlights of my year last year. It has given me a chance to work on an array of tasks that suit my skills, gain experience outside of my field and to contribute to addressing the issue of social disconnection that I am passionate about. I've enjoyed doing this alongside interesting, diverse and skilled people. I believe one of the key strengths Irene, our National Manager, has is finding the right role for each team member, so all you need is a little time and the desire to help – please do get in touch!" Bec – Organisational Development Manager / Board Member / Connector (all voluntary roles)
---
Support Neighbourhood Connect
Neighbourhood Connect is run by volunteers. We welcome financial or in-kind support from organisations, businesses and individuals who wish to support a connected neighbourhoods movement.
Examples of practical help include: photocopying, pro bono professional services, catering and use of venues.
If you'd like to explore ways of supporting or partnering with us please get in touch. Contact us or email us at hello@neighbourhoodconnect.org.au
---
Donate
Neighbourhood Connect is currently unfunded and is run by volunteers. Your donation will make a big difference to what we can do. Contact us to donate.