We'd love to hear from you if you'd like to contribute to our work.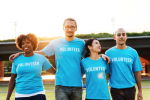 "Getting involved in the Neighbourhood Connect project team has been one of the highlights of my year last year. It has given me a chance to work on an array of tasks that suit my skills, gain experience outside of my field and to contribute to addressing the issue of social disconnection that I am passionate about. I've enjoyed doing this alongside interesting, diverse and skilled people. I believe one of the key strengths Irene, our National Manager, has is finding the right role for each team member, so all you need is a little time and the desire to help – please do get in touch!" Bec – Organisational Development Manager

Roles include the areas of promotion, securing resources, admin, research, group support and coordination. Call 0413 706 233 or email us at hello@neighbourhoodconnect.org.au and tell us what skills you have to share!