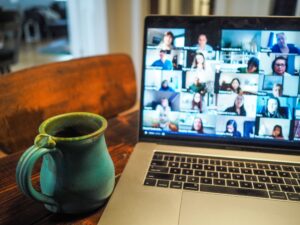 Be Friendly
Start simply!
Drop a note into your neighbours letterbox to say hello, make a phone call or smile, say hello or have a chat as you walk past your neighbours front yard.
Socialising with the neighbours
Set-up a Neighbourhood Happy Hour = having fun and staying connected – at a distance!
Couch Choirs are popping up around the world-bringing joy in the comfort of your own loungeroom!
How about Singing from the Balconies like in Italy!
Host a movie watch party! Meet up online, cook up some popcorn share a chat before the movie. You could arrange an intermission to socialise and share your critiques! There are lots of free movies to watch here. www.openculture.com/freemoviesonline 
Have a video catch up with your neighbours: Use Zoom, Skype or the many other video platforms from the comfort of everyone's lounge rooms. Catch ups, celebrations, discussions on a range of topics, book clubs, playgroups and more can be done this way.
Host an online book club : With your neighbours, create an email group or use social media to connect and vote on a book to read together. You might schedule and commit to reading a few chapters each week and then get together to share your reviews on a video chat once you are finished.
Resources:
Health and wellbeing
Walk and talk: Talk to a neighbour on the phone as you get your exercise.
Set a challenge with your friends and neighbours to run, walk, cycle a number of km each week-it might be on your stationary bike or the real thing if it's allowed where you live! Check in each week and congratulate those who reached the goal.
Get some inspiration from around the world… In Seville, Spain, a fitness instructor led a live class outside and invited residents to participate on their balconies. In France, a man ran the equivalent of a marathon on his 23-foot-long balcony.
Fun and Games
Create a community photo challenge: Everyone loves their pet! Invite your neighbours to submit images for a Pet of the Week competition in your neighbourhood. Select one pet each week and encourage the owner to post photos or videos of the pet's status each day for some uplifting content to break up the constant cycle of coronavirus updates.

When you have to stay home and self isolate, online and games can be a great way to virtually meet up with others, have some fun and keep your spirits up.
Games:
Adults:

Pogo: Online gaming website which offers over 100 card/board games to be played against computers, or other people. Online Monopoly is highly recommended!  Here's some other suggestions for online PC games to play together.

Children: 

Kahoot – website which features trivia games of different topics; free of charge to play. Just make an account, choose a Kahoot and join via the game link. Can be played alone, or with your friends!
Coolmath4kids – website which features fun and educational maths based games for kids.
Look after and nurture yourself
In the current situation of social distance and quarantine, many people are being forced to stay home. This unexpected and rapid change to our routine can be restful for some but is perhaps stressful for others. Most importantly, be mindful that looking after your own well-being and mental health will help you to continue to be able to support others during this time.
Tips to nurture yourself:
Keep a healthy perspective – access quality information and remember this period of isolation is temporary to avoid the spread of the virus. Here are some useful tips from BeyondBlue.
Walk in nature – spending time in the outdoors is a great way to lift your spirits and lose that extra stress you might be carrying. Take time to breathe the fresh air, watch a sunset or embrace the quietness.
Have an Unplugged day – shut down your phone, turn off the WiFi and spend a day totally uninterrupted.
Try out some new recipes – cooking and experimenting in the kitchen can be a fun and creative way to fill in the extra time at home. Challenge yourself to try something new or make something to share with a special friend or neighbour.
Follow advice and stay safe…
Health and legal advice can differ, depending on where you live. We advise you to regularly visit your state's page for the latest guidelines:
For the latest official advice on the Corona Virus (COVID-19), see www.Australia.gov.au.