The Street by Street Project is spreading around Australia. If you live in one of the neighbourhoods below, you can contact us to be put in touch with the local Community Connector. Groups are generally small and local and if you live elsewhere, we encourage you to start your own. Please give us a call to have a chat or find out more about getting started. Many of the groups below have started through Street by Street; others have started in a myriad of other ways. The latter may be about social connection and / or a common interest such as sustainability, gardening, safety, improving the neighbourhood and so on. All contribute to a connected neighbourhoods movement. All neighbourhood groups that get together face to face are invited to be part of the Network.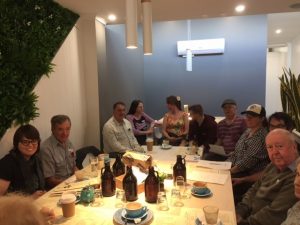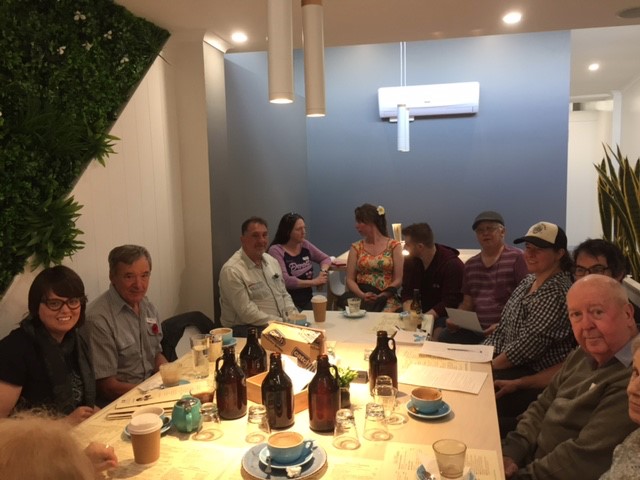 Group 50. November 2018. Bayswater Neighbours Group, Vic
"Despite being more than a little hesitant, Irene's assurances I would enjoy the process of forming a group were indeed true! We had 13 people turn up and word of mouth has already lead to three enthusiastic newcomers coming on board. We had a range of ages with one person in their 80's and a few people in their 30's. Within an hour of meeting everyone, I had two fellow Connectors and one couple offered their yard for the next gathering! It was also fantastic to hear some of the history of the area, the days of orchards and 'knowing everyone in your street' – here's to bringing some of that back!" Bec
Group 49. November 2018. Spring-dale Garden Club, Springwood / Rochedale, Qld
The club became a reality in 1982 with the name coming from the suburb names, Springwood and Rochedale. Planting for Pleasure is the club's motto. Monthly meetings feature a Competition Bench, Trade Table (lots of cheap plants!) and a guest speaker. Coach trips are held monthly and members visit local points of interest and a nursery or two!
Group 48. October 2018. Love Our Street 3207, Port Melbourne, Vic
Our volunteers meet once a month to clean local streets and places around Port Melbourne of plastic litter.  It is a sister group to the Beachpatrol 3207 group that cleans beaches in Port Melbourne.
Group 47. October 2018. Condell Growers & Sharers, Fitzroy, Vic
Condell Growers & Sharers is a community garden comprising 36 vegetable plots located in Condell Street, Fitzroy. The garden is maintained by local residents – providing access to fresh food and encouraging sustainability.  
Group 46. October 2018. Lakeside Drive Community Garden, Alawa, NT
Lakeside Drive Community Garden is a welcoming space where all members of the community can come together to share skills, local and traditional knowledge and innovative ways of living sustainably.
Group 45. October 2018. Margate Community Gardens, Margate, Tasmania
Margate Community Gardens endeavour to promote a communal spirit, and wholistic health and wellbeing, via informal education in organic gardening, nutrition, and sustainability.
Group 44. September 2018. Tip Top Neighbours Group, East Brunswick, Vic
A group of neighbours in the Tip Top complex formed a social group.
Group 43. September 2018. D'Bay Street by Street Group, Deception Bay, Qld
Brodie invited neighbours to a barbecue at their local park and the D'Bay Street by Street Group was born. They are holding a 'Music by the Bay' event where members will perform for the group.
Group 42. September 2018. Teneriffe Locals Club, Brisbane, Qld
The Teneriffe Locals Club (TLC) – is a group of great, friendly, people who come together at least once a week for a walk and dinner in the local community. The group was set up by Jayne Ashworth two years ago from a passion to build a local community of friends in the Teneriffe area of Brisbane. See https://www.facebook.com/groups/321194978358288/ or https://www.meetup.com/teneriffelocalclub/
Group 41. August 2018. 3182 Beach Patrol, St Kilda, Vic
We are a local community group that meets on a monthly basis to remove litter from St Kilda's beaches and heighten public awareness of the litter problem. To join see www.beachpatrol.com.au/BeachGroups/3182 or www.facebook.com/3182StKildaBeachPatrol/ 
Group 40. July 2018. Burwood East Neighbours Group, Vic
With a mix of people who have lived in the area for decades but who didn't know others in the area to international students wanting to connect and missing the sense of community they had back home, this group plans to bring people together. Jo and Nandini became the connectors for the group.
Group 39. July 2018: Love Our Street 3183 & 3185,  Ripponlea, Vic
Jill Sokol leads this group, as well as the Elwood group. We come together as a community to keep Ripponlea clean and prevent litter entering the bay. We are committed to keeping our community beautiful and promoting litter awareness. We have a monthly clean-up and a cuppa afterwards. See www.facebook.com/LOS3185/
 Group 38. July 2018: Love Our Street 3184, Elwood, Vic
We come together as a community to keep Elwood clean and prevent litter entering the bay. We are committed to keeping our community beautiful and promoting litter awareness. We have a monthly clean-up and a cuppa afterwards. For more info see our Facebook page or email Jill Sokol at 3184-1@loveourstreet.com.au
Group 37.  May 2018: White Gum Valley Community Orchard & friends, White Gum Valley, WA.
Nan Maria arranged an event in her local park as part of the Garden Party Collective project, and neighbours came to get to know each other and be entertained by a local a cappella group. Following it's success Nan Maria joined forces with the White Gum Valley Community Orchard(WGVCO) to work together for the next event, an olive picking day followed by a long table lunch in the olive grove at another local park. More than 30 people enjoyed a shared lunch, were entertained by local accordian player and had a lovely afternoon of chat, sunshine and good food. The WGVCO continues to hold regular planting days and events and encourages locals to grow, harvest, cook with shared recipes and then eat produce from the fruit trees they planted with their own hands.
Group 36. May 2018: Samson Friends, Samson, WA
Connie joined the Garden Party Collective Project and as a result, brought 85 neighbours together at the first event in her local park in Samson, Western Australia. "I feel proud I was able to get people together to become friends…everyone wants to feel connected, they just need and opportunity to come together. People came, shared food, showed community spirit and that they want to be part of the community." Since the first gathering a wonderful group of neighbours have joined with Connie to ensure the sustainability of the group, have already coordinated a second event on Neighbour Day and a date is  set for a winter gathering in the park.  Connie says …"I'd recommend others give it a try…getting to know each other builds trust and friendship, and that can make you feel more comfortable and connected where you live".
Group 35. May 2018: Success Neighbours Group, Success, WA
"Our gathering in the park went off beautifully. About 45 people came along. We had a lot of people who said that this is something they had always wanted to do but never got around to doing it. They also spoke of what else we could do together – some have already begun planning a Christmas event." Colin Craggs
Group 34. May 2018: Love Our Street 3030, Wyndham, Vic
Love Our Street 3030 aims to bring people together as a community to look after our environment in Wyndham, to keep our streets beautifully clean and stop litter getting into our creeks, canals, on to beach or in the ocean. We aim to support the work of Beach Patrol by dealing with litter close to the source. On the morning of the fourth Sunday of the month we meet at one of our local shopping streets, parks and gardens or area of significant litter for a clean-up. Please contact us to get involved. E 3030@loveourstreet.com.au FB https://www.facebook.com/LoveOurStreet3030/ eNews http://eepurl.com/drUll1
Group 33. March 2018: Callaway Park 3020 Community Group, Sunshine West, Vic
"We had an amazing first gathering. The invitations were letterbox dropped and about 35 people showed up for a picnic at the local park. It was a beautiful sunny day and everyone was so pleased to have our community finally sprouting. One of the participants works as a professional facepainter, and she set up her face painting station under a tree in the playground and all the kids lined up to get their faces coloured up. It was so spontaneous and beautiful. Everyone was enthusiastic about continuing with the group and a couple of people have volunteered to join me in being community connectors. Our next events will be an Easter Egg Hunt and then a barbecue." Carolina Isfer 
Group 32. March 2018: Team Colyton, NSW
Team Colyton was kicked off by Penrith Council's Neighbourhood Renewal Team in August 2015. Since then residents have worked together to improve their neighbourhood. They've had many social events, barbecues, yearly Carols, health awareness events and have planted more trees along their streets.
Group 31. January 2018: Flannery Court Friends and Neighbours, Oak Park, Vic
John and Phil started a yearly Christmas party at the cul de sac at the end of Flannery Court over 50 years ago. Glenn and Chris took over 20 years ago and have kept the tradition going. Everyone gets together for a yarn around a fire drum on the road at the end of the Court, with Santa joining the festivities each year.
Group 30. January 2018: Co-Create Cremorne, Vic
Co Create Cremorne is a community network of people who are helping take forward some community-led and community-generated ideas for the common good. It's mainly about public space and based on what people love about Cremorne and what they feel is needed. 200 people came to their crowdfunded street party in 2017 and they are working on creating an exciting community space. See www.cremorne.co or www.facebook.com/cremorne.co/
Group 29: Nov 2017: Vintage Car Club, McCrae, Vic (their local streets are named after English vintage cars)
Jenny said: "My husband and I distributed invitations to 60 homes in our street inviting everyone to our home. 19 people came with 7 more expressing interest for future events. We mingled and I gave a short 'presentation' on the purpose of our get-together and the Street by Street project. Everyone was very enthusiastic and wanted to continue. They all saw it as a very positive move and were keen to instil some community spirit into our neighbourhood. We will have a BYO barbecue dinner here at my home in December for our Christmas Break-up (which got a lot of laughs as we have only had one meeting!!) and will invite a local Travel Agent along to our meeting In January to talk to us about travelling. A few people offered to organise future activities and to host our meetings in their homes on a rotational basis. I think our little group has a very bright future."
Group 28. Nov 2017: Transition Wyndham, Vic 
Transition Wyndham is a network of community members, who are inspired to reimagine and rebuild our world.We offer monthly catch-ups – a space for people to come together and discuss what inspires them, what they would like to see more of and a mechanism to support great community work. We are involved in many different projects, including the Buy Nothing Project, where in Wyndham we have 5 different groups to cater for the whole community. We are also commencing get-togethers for our Buy Not Groups. Let's learn and love life together. And check us out 
https://www.facebook.com/groups/308230556194316/
 or enquiries Lisa 0433 559 530.
Group 27. Sept 2017: Weston Street by Street Group, ACT 
Our first group in ACT was initiated by Street by Street Project Team member, Clare, who brought her neighbours together in a local park in Weston. Claire said "Lauren from Woden Community Service kindly supported us to kick this off. About 25 people came along. We had a great time while the kids played, and decided to get together in the park every couple months from now on. We're running into people we now know and connecting up individually as well. I'm glad I bit the bullet to connect with my neighbours."
Group 26. June 2017: Mitchell Park Neighbours Group, SA
For the last 10 years, neighbours in Flinders Court have held barbecues at the end of their cul-de-sac. With support from Junction Australia, people from 52 units in their housing complex are regularly invited to neighbour get togethers.
Group 25. June 2016: Ruskin Park Neighbours Group, Croydon, Vic
Jane Monk says: "My husband and I started 5 years ago with posting simple invites in the letterboxes in our street – and hey presto we had 20 people rock up to an afternoon tea outside our place.  We have them twice a year – and it has transformed the experience of living in our street.  I feel I am in a community. I love my neighbourhood – we have such a great group of talented and generous people that I would not have known if we hadn't started street gatherings 5 years ago."
Group 24. June 2016: Ruskin Park Resident's Action Group (RPRAG), Croydon, Vic
Formed as a result of the Ruskin Park Neighbours Group, the RPRAG is playing a role in harnessing the voice of the neighbourhood to provide some balance in the equation, as the area has been targeted by developers.
Group 23. May 2017: Nobby Country Morning Tea, Nobby, Queensland
Every first Saturday of the month neighbours in the small country town of Nobby in Queensland get together. It's a market where people bring produce to swap, recipe ideas, books, handmade small dog items, budgies & cockatiels, herbs, cakes, artisan-made jewellery. There are talks on topics like 'Simple Living' and a mens shed. 
Group 22. Feb 2017: Broadbeach Boulevard (Hillarys) Neighbours Group, WA
Neighbours in Broadbeach Boulevard get together for drinks and help one another.
Group 21. Feb 2017: Hillarys Neighbours Group, WA
A casual park picnic was held in Flinders Park on a Sunday afternoon. Although only a handful of people arrived, it was none-the-less a wonderful afternoon. The children had a chance to play together on the playground, whilst the adults chatted over coffee, tea and afternoon snacks.
Group 20. Feb 2017: Sorrento Street by Street Group, WA
Sarah Maiden
 kicked off the group, with a very successful first gathering of thirty enthusiastic neighbours coming together. It was a fun evening of getting to know each other over a sausage sizzle, cheese and crackers, and some wine. Further events have been planned.
Group 19. Nov 2016: West Footscray Neighbours Group, Vic
Caitlin had just moved to the area and knew nobody so she invited everyone nearby to a picnic in a local park. About 30 people turned up. Lots of people with children!
Group 18. Nov 2016: Hampton Village Neighbours Group, Vic
The Urchin Bar filled up with neighbours who formed Hampton Village Neighbours Group. Maura stepped up to be a connector and further social activities have been planned.
Group 17. Nov 2016: Elwood Village People, Vic
Robyn brought her neighbours together and they formed Elwood Village People, the second group in Elwood. They are having get togethers and helping one another – thanks to help from neighbours, a single mother is able to study as they are happy to look after her baby. That sort of support is life changing.
Group 16. Oct 2016: Albert Park Street by Street Group, Vic
Albert Park neighbours met over brunch and formed the Albert Park Street by Street Group, with a team of four connectors. They plan to picnic in the local park and meet at cafes, possibly tackling issues like smoking in outdoor cafes and considering how to help the disadvantaged people in their area.
Group 15. Sept 2016: Elsternwick Street by Street Group, Vic
Residents of Elsternwick responded to an invitation to meet at a local cafe. Discovering great neighbours they were keen to connect regularly, thus starting the Elsternwick Street by Street Group.
Group 14. Aug 2016: St Kilda Junction Street by Street Group, Vic
Lyn started the St Kilda Junction Street by Street Group with a gathering at a British Pub. Some had lived in the area for over 30 years without knowing many people. People were interested in getting to know more locals and in helping others.
Group 13. Aug 2016: St Kilda West Neighbours Group, Vic
Barb and Clare kicked off the St Kilda West Neighbours Group at a cafe overlooking the bay. Neighbours were keen to continue connecting with barbecues, walks and pot luck dinners.
Group 12. July 2016: All Aboard Marooka, Qld
Carolyn and 10 of her neighbours came together to facilitate neighbours connecting. They've formed All Aboard Marooka with 200 locals coming to their first event in a local park. They have held regular park events since then, with dancing demonstrations, dog washing, kids activities and swapping things.

Group 11. April 2016: Green Knoll Neighbours Group, Vic
29 St Kilda neighbours met up at the popular local Dog's Bar. This expanded the existing St Kilda neighbours group to a membership of over 100 people, living on The Esplanade, Acland St and surrounding streets. The group is called the Green Knoll Neighbours Group. They have monthly dinners at various local venues. Interests raised included helping one another, gardening, street beautification, theatre and walking together.
Group 10. April 2016: Parsons Reserve Sunshine Neighbours Group, Vic
Jodie and Michelle started Parsons Reserve Sunshine Neighbours Group, kicking off with a Neighbour Day long lunch attended by over 80 people. They have 40 neighbours on their email list and plan to organise regular social gatherings and a book club.
Group 9. April 2016: East Fremantle Neighbours Group, WA
Wendy started a second East Fremantle group in a different corner of the suburb, with a picnic in the park and art activities for the kids. 28 people came along and quarterly community picnics are planned.
Group 8. March 2016: Ivanhoe Street by Street Group, Vic
Trupti and Meg started their Ivanhoe Street by Street group, with a Neighbour Day picnic in the park in March, attended by 11 adults and 5 kids. Everyone brought some food to share and had a great time. They are keen to continue.
Group 7. Dec 2015: Glenelg East Neighbours Group, SA
Julia Henwood's invitation brought out 20 neighbours in Glenelg East keen to connect and do more together in the new year.
Group 6. Sept 2015: East Fremantle Neighbours Group, WA
Wendy Wisniewski in East Fremantle had a successful first gathering with 30 neighbours at the local park and neighbours are keen to come to further events.  The Mayor of East Fremantle, Mr Jim O'Neill, came along and supported the event and there was an abundance of morning tea.
Group 5. Sept 2015: Belgrave Neighbours Group, Vic
Jonathan Rutherford in started with a casual get together with his neighbours at a local cafe in Belgrave. Everyone was enthusiastic about the concept and they found  they had similar interests and ideas about how it could progress. They will have a picnic in a park next.
Group 4. July 2015: Arrandale Neighbours Group, Vic
Irene Opper, in St Kilda, initiated a morning tea for Neighbour Day, inviting everyone in her apartment building. This started the Arrandale Neighbours Group. Pat agreed to share the role of community connector, and neighbours have been connecting over regular morning teas, barbecues and at local cafes.
Group 3. March 2015: North Adelaide Neighbours Group, SA
John Baxter and partner Michelle, in North Adelaide, took the first step and contacted 100 neighbours, finding 15 willing to help organise activities and many more happy to come along to picnics and other events. They now have regular movie nights.
Group 2. Dec 2014: Cottesloe Neighbours Group, WA
Jane Figgis, in Cottesloe, gave away books she no longer needed to her neighbours as a way to start informal discussions on the idea of getting to know one another and possibly forming a group.
Group 1. Dec 2014: Hilton Street by Street Group, WA
Maureen Maher, in Hilton, brought her neighbours together for a clean up of their area (followed by champagne) and a Christmas gathering, informally discussing the idea of becoming a Street by Street Group. Since then they have had a number of social gatherings, clean ups, progressive dinners and a bake-off.
If there is not a group in your area, we invite you to kick one off, with support from us.
See all the information here on starting a group.